PS: If you'd rather watch a video version, here are two options:
Amazon.de: https://amzn.to/2QrHVgD
Overview
This is the CT25PRO 'Craftman' tripod. It's made by a Chinese company called GEEKOTO. And truly that is the only thing 'Chinese' about it, as this is a serious contender in the tripod field. Here's an overview of the tripod and my experience with it.
Above is the GEEKOTO carrying bag as it comes straight out of the box. Below is my Sony A7II with a Zeiss Batis 85mm 1.8 lens for size comparison. The bag with tripod, head and accessories measures less than 2.5 Zeissonys! 😜
The bag is made of ye good ole synthetic fabric. I haven't tested it in the pouring rain yet, but I suspect it will withstand some light rain at least. It's definitely not weather-sealed, but for a tripod that's designed to be used outdoors, that'd be a luxury anyways.
It features an adjustable shoulder strap which is pretty small: bodybuilders may have some issues carrying it. But for a thin guy like myself, I rather love how tightly it sits around my body. It feels well secured indeed. Worst case if it's too small, you can always shorten it and use it as a hand strap.
The tripod head comes in a fancy velvet pouch for when you need to impress your fellow photogs. It doubles as protection for the tripod head.
Not that you'd have any need for protection, as the head is made of solid steel. Including the adjustment dials on the side. That's quality right here. You can drop this bad boy and sooner get a crack in the floor. (Try at your own risk! 😁)
Here's the back of the head. You can see two metal adjustment dials. The bigger one is used to control the friction which holds the black metal ball (attached to the tripod plate). Release it to move the ball around, allowing roughly 45 degree movement sideways, and a full 180 degree rotation. There's also a little gap by which you can lay the camera in vertical position.
The top of the head features a green bubble level which helps you stabilize your camera. While handy, in my professional experience, it will never be 100% accurate. You can use it to get an estimate of the horizontal level, but if you need to shoot architecture or interior projects, be ready to spend some time in your viewfinder (and post) correcting perspective by the millimeter. But for quick, general perspective checks, it's a great tool. Downside: there's only a horizontal level; no vertical.
Also note the metal screw on top, which can be removed using an included L-shaped hex wrench (pictured below). In case the tripod plate breaks, you could replace it this way. Or get creative and screw different stuff into it 😎
At the bottom of the head is a thread for screwing onto the tripod center column. You can also see the pan degree indicators, which give you an idea about how far you've panned the head.
PS I've let my dad, who's a professional video camera operator, use this tripod and he loved the fluid motion of the head. For someone's who's used to shooting with >1000 euro oil heads, that's a big compliment, especially for a budget tripod!
The total package includes (from left to right):
Tripod
Carrying strap
Pack of manual, GEEKOTO products brochure and a Membership Card which you can use to get a discount on your next purchase
Tripod head
Set of accessories, including a 3/8″ male-to-male screw and 3/8″ female-to-female adapter and hex wrench.
Each leg has an orange button which can be used to reposition the tripod legs into various degrees, to either put the tripod completely flat to the ground, or flip the legs upwards to decrease carrying size. These buttons are easy to use, unlike some systems where you cannot actually see what's going on (I'm looking at you, Vanguard).
The legs are made of carbon fiber, but GEEKOTO also sells an aluminum version which costs less. Truthfully, there is absolutely no reason not to get the carbon fiber version however, as you will love the decrease in weight. Your back will thank you later.
The bottom of the legs feature three rubber rings which you can quickly unscrew in a single hand motion. This hugely decreases setup time versus other systems like Manfrotto where you have to unlock each section separately.
The feet are made of rubber and should be stable on most common surfaces. For rough terrain, I do miss an option to add spiked feet, like my Vanguard (here's a link to a similar model).
One of the legs has a branding sticker. It can be peeled off if you prefer to go unbranded. The carbon fiber has a pleasing texture, both to touch as to look at.
There is one leg which can be detached for use as a monopod. In my opinion this is one of the biggest strengths this tripod has! You're essentially getting a 2-in-1 solution: tripod and monopod.
Simply unscrew the monopod leg…
Add the included 3/8″ male thread:
And there you go. You can now mount the tripod head on top of it. Easy! And very portable.
But why stop there? The hidden feature which hardly any photographer uses but is so killer, is using a monopod as a flash mount, like so (copyright Neil van Niekerk):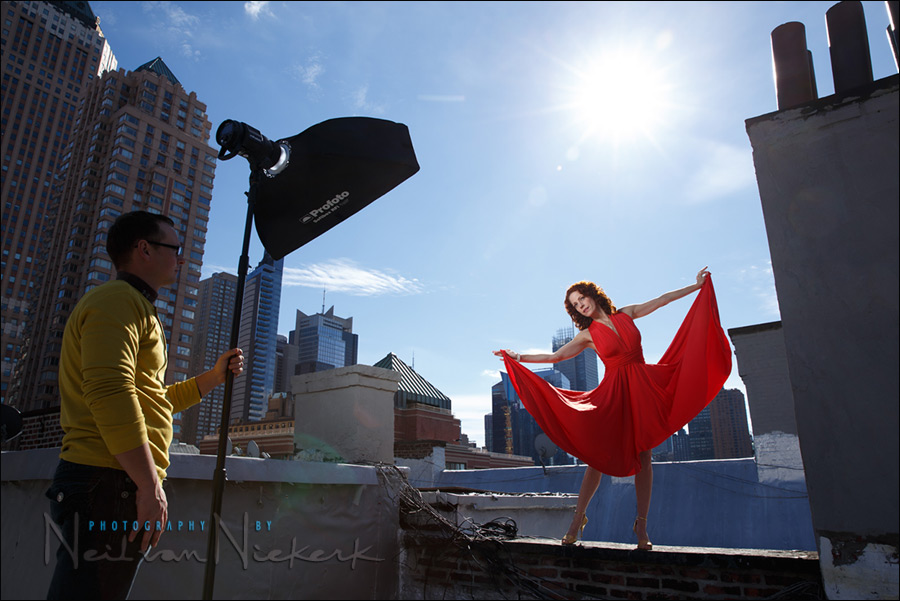 Imagine running around on location with your model and an assistant. Forget wasting minutes setting up your light stands (or hauling them around, for that matter)! This is true portability. What about a wedding? Perfect light, everywhere. Heck, I'd buy a second tripod just to use it as a monopod, because it's so handy and lightweight.
If you're intrigued by this setup, you'll need to get an extra 3/8″ spigot adapter. Consider this one from Amazon.de. It will help you mount any flash onto the monopod.
In case you need to adapt a 3/8″ male to female thread, you can use the included adapter.
The center column has two additional rings used to extend it. In total the tripod extends up to 2 meters in height. It collapses down to 48cm, which is ridiculously small.
Here you see the tripod in full, at its smallest size while standing. I appreciate the colour choice, with black being fairly low-key while the orange makes it noticeable enough on set.
This is the plate which you screw onto the bottom of your camera. Unlike many systems where you need a screwdriver on hand to adjust it, GEEKOTO has added a small ring which allows you to screw it in by hand. The little rubber pads at the top help keep your camera in place. I would prefer a full metal solution, but this is a good budget compromise.
Pictured above is my Sony A7II with the Sony-Zeiss 35mm 1.4 Distagon lens and a Spider Pro strap mounted on the CT25Pro.
Though the Sony is light, my contraption above with the battery grip and lens certainly is not. Still, the tripod head manages to hold it nicely, even in vertical mode. The dials are easy to reach and feel good, unlike any plastic counterparts.
At the bottom of the center column is a hook onto which you can hang various weights to help stabilize the tripod. Great for trekking when you're facing strong winds.
Another size comparison with the head mounted on. About 3.14 Zeissonys 🤓!!
Finally, we see a comparison with two other professional tripods: the Vanguard Alto Pro CT283 and the Manfrotto 190XPROB (pink Hello Kitty label courtesy of my girlfriend 😺).
The Vanguard has been my goto tripod for the last three years. It's also made of carbon fiber and features a special pistol-grip head which is incredibly convenient. But darn, is it long and heavy! It's not so much the tripod as it is the solid head which adds to the weight. Moreover Vanguard includes a carrying bag which only fits the tripod body and not the head! Ridiculous design choice. I keep having to store the head elsewhere, which takes up precious space.
Then comes the Manfrotto, my girlfriend's tripod, with which the only experience I have is hauling it around like the good partner I am 😇. I tried setting it up once, but the weight and leg locks which you have to open one-by-one discouraged me from ever doing it again.
Pricewise the Vanguard is the most expensive (I paid over 200 euros for it, second-hand, with the head), then the GEEKOTO and last the Manfrotto.
In terms of size, the Manfrotto is about equal to the GEEKOTO, but let's try removing the head:
Now you can behold the Craftman's true beauty: its conveniently portable size. This is because you can collapse the legs upside down, towards the center column, effectively eliminating another 10 centimeters.  When combining this with its low weight of 1.54kg (head included), you can clearly see how it's designed for travel.
Example shots
I haven't had the time yet to play with it in nature, but here are some photos I shot during a fashion event and for a commercial advertising assignment. All photos are unretouched and interior ones are even straight out of camera:
Conclusion
The GEEKOTO CT25Pro is a small, lightweight tripod which shines during long travels and carless journeys. While costing half of its popular counterparts, it delivers with a high quality carbon fiber construction, solid metal head and adjustment dials, quickly adjustable legs and the versatility of a monopod (which doubles as light stand, don't forget!).
During professional assignments, I found the tripod easy to set up and reposition. The head has smooth movements, great for panning shots in video, and feels durable.
What I miss is an option to add spiked legs for rough terrain and a horizontal bar to take more vertical shots like my Vanguard.
I highly recommend the CT25Pro as a beginner's tripod. In case this is your first tripod, it will last you a long time and its small weight will encourage you to bring along a tripod more often (=good practice).
If you're a seasoned pro and are looking for a budget solution, or a second replacement tripod, or even a great monopod for mobile lighting with an assistant, GEEKOTO is also the right choice for you.
You can get the GEEKOTO CT25Pro Craftman tripod here: Amazon.de.
GEEKOTO US Site: https://geekoto.com/
GEEKOTO Instagram: https://www.instagram.com/geekoto_photography/
GEEKOTO Facebook: https://www.facebook.com/geekoto/